125 devices ordered on Indiegogo crowdfunding campaign by 141 backers to raise €12.7k in Aug 2022
What is HOLOFIL-cardboard?
HOLOFIL-cardboard is a tabletop portable mobile based

consumer

device that simulates mesmerizing 3D visual experiences that *feel* like holograms. Place your smart phone with 3D content in HOLOFIL-cardboard to enjoy simulated holographic visual experiences with a great user engagement.
Cherish memories with 2D to 3D Photo frames
Want to take a look at your 2D images lying in your smart phones in a visually stunning new 3D ways? Convert your 2d images in 3d photo frames using HOLOFIL-photo app and then animate these photo frames 3D models using HOLOFIL-X app to visualize in HOLOFIL-cardboard. ​
Revisit childhood fun with 3D casual gaming
We have launched a 3D casual games store to be used with HOLOFIL-cardboard and 2 games are already released while a total of 15 games / apps are in pipeline with one release per 1.5 month. The aim is to recreate the 3D casual versions of many classic childhood games that we played in the 90s.
​
Make learning fun and engaging
Make use of the amazing 3D animation content for learning educational materials to make learning complex concept engaging to learn for school students. We are working with partner content creation companies creating educational 3D content.
Create mixed reality promotions
Wow your audience by creating incredible mixed reality content by combining physical objects and virtual content. Create different staging scenarios inside the device by placing objects / products and 3D content projected / mapped around it. Use it for home decorations on special events for home interior enhancements. Or use it to promote your products on social media pages to engage with your audience to
create unique brand appeal for your products.
Create simple 360 degree 3D model visualizations
Want to visualize your 3d models in a simple 360 degree turntable manner but giving it a more visual appeal for public showcasing? Use HOLOFIL-X app to import 3D models and export 360 degree turntable 3d animations to use them in HOLOFIL-cardboard.
Create wow experiences for digital 3D fashion
Digital 3D fashion is the next big things. With the advent of digital 3D avtars for the metaverse and digital 3d clothing, the fashion visualization is never going to be the same again. Use HOLOFIL-cardboard for visualizing your digital 3D fashion model ramp walks, digital 3D clothing visualization for an enhanced engaging wow experience.
Give it as a corporate / personal gift
HOLOFIL-cardboard is an ideal gift for corporate gifting if you have clients in the 3D world who can make use of it for visualizing their content and to give them a special feeling to commemorate special occasions / events. HOLOFIL-cardboard is a great gift for festivals such as Christmas to gift to kids and to not only let them enjoy fun 3D casual games but also to get introduced to the 3D design ecosystem using simple design tutorials and to trigger their interest in 3d creative learning aspects.
Introduce kids to 3D design tools ecosystem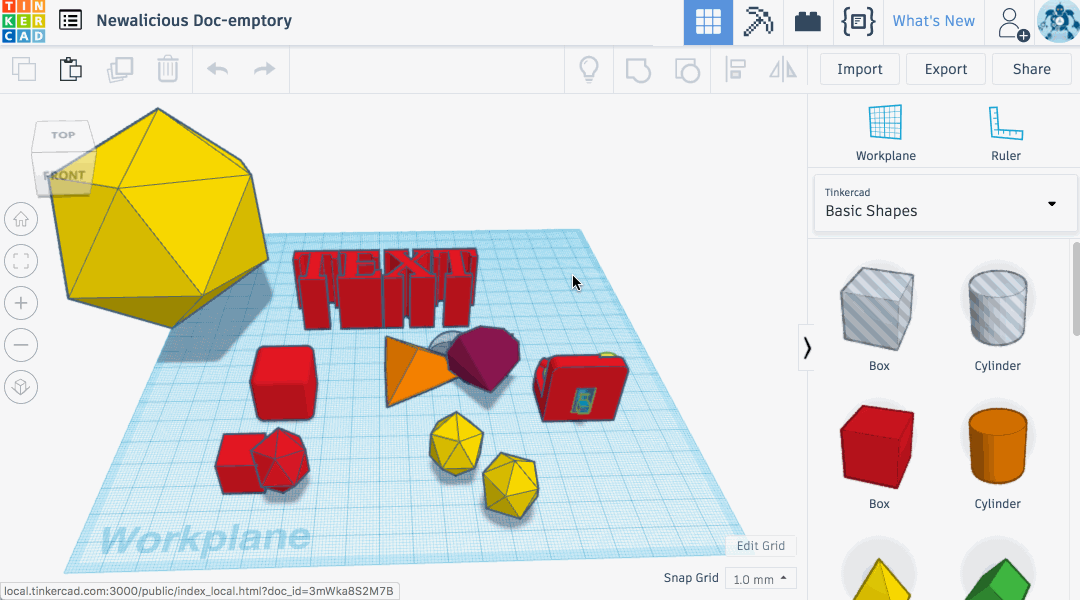 If you like LEGOs, there are equivalent of 3D design learning tools for kids in the 3D world. Take an example of
TinkerCAD from AUTODESK. There are more such softwares that expose kids to basics of 3D design and then
they can create their own 3D data to be used with HOLOFIL-cardboard to visualize it in a more fun way. Check out our extensive coverage of the related material by visiting our dedicated section for 3D for kids.
Enjoy mini-theater experience watching OTT
Do you watch a lot of OTT / Youtube content on your mobile phone while resting in the bed and holding mobile in your hand? Now, you can enjoy the experience in a much better way ergonomically and visually to get a mini-theater like experience. Watch long format content in HOLOFIL-cardboard to get a mini-theater experience.
Weight - 600 grams, Product (L x W x H) = 18 x 18 x 10 cm
Package (L x W x H ) = 30 x 21 x 3 cm